As you already likely know, winters in Minnesota can be rather harsh. Regular snow and wind can make the season seem even longer, and there's nothing much more comforting than coming home after a long day and seeing that porch light glowing by your front door. Your home's exterior lighting is very important, especially during the winter, when the days are shorter. At Southern Lights, we can help you find new outdoor lights that will make your property brighter, safer, and more inviting.
Check Your Security Lighting
While you notice when the porch light goes out, you may not notice when the motion sensor light on the garage isn't working; at least not until you walk by with your arms full of grocery bags, and it doesn't turn on, causing you to miss the turn in the sidewalk and go sprawling into the snow. Security lighting is intended to help keep you and your family safe, and if you want to upgrade to better options this winter, then visit our showroom today. Older halogen fixtures have given way to brighter LED lights, which can also last longer than their halogen counterparts.
Safety While You're Away
You might spend quite a bit of time away from home in the winter, especially during the holidays. You may be taking a vacation to a warmer area of the country, or you're just driving to St. Paul to visit your parents. Whatever the case may be, you want to be sure that your home is safe and secure while you're gone. New exterior lighting can deter trespassers, as it can make it seem like you're home. With the right timers, spotlights, and motion sensors, certain parts of your yard can be illuminated at certain times, and the lights will come on when someone walks by or approaches the front or back door.
Add New Ground-Level Lighting
Perhaps all of your outdoor lighting is at eye level or above, but you want to add new ground-level lighting. Pathway and garden fixtures can be a great way to delineate your sidewalks and steps, but it's important to make sure they're uncovered after it snows, and that you don't knock them with the shovel or snowblower. These ground-level lights can make it easier to see when you're walking up to the house at night, after an evening spent at the neighbors' house down the street.
Discover New Lighting Today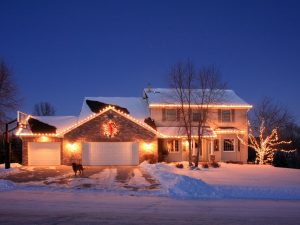 If you've been thinking about new security or ambient lighting for the exterior of your home, then come to Southern Lights today. We have a great selection to choose from, and our staff will gladly explain the features and benefits of a specific fixture that you choose.
While Minnesota winters can be unbearable at times, new outdoor lighting can make it better. Brighten the exterior of your home and make it safer for those who visit by adding new fixtures today. With new lights in the right spots, you can create the warm and inviting atmosphere that you've always wanted your property to have.
We look forward to seeing you soon!